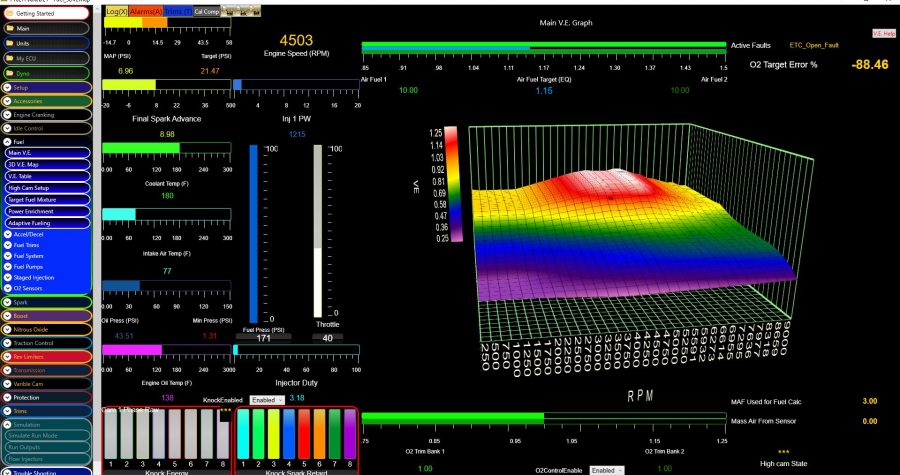 Software
Make sure you have an internet connection available when installing and connecting for the first time
Gen2 Software gives a different interface layout and the processing speed is much faster. 
 IMPORTANT Note: This software requires a license for each ECU to use. The license fee is $55.00 and can be paid directly to sales@proefi.com via paypal. When you connect to the ECU, a license message will pop up and show the ECU serial number. Please include this information when sending an email or payment! [Once payment is received, may take up to 24 hrs to process during the business week, Mon.-Fri.]
V5.30 –
Additional security to prevent using the same read name as the write name when creating a new ECU file.
Licensing is fully automated (no need to send in a file), fixed intermittent logging crash when reviewing a data log.
Users can now create templates with an organized layout of channels. Which is done by right clicking on the channel and dragging the selected channel up or down, in the strip chart plotter to the appropriate location. Once the layout is complete, save the template. Channel colors and ranges may also be saved (use the units you typically use when saving ranges).
V5.006 – 
Fixed Comm error with ProMod and Dealer box when flashing.
Added additional Logging channels for 112 synch setups. Added support for additional functionality with Cruise Control and Alternator Control.

V5.1 –
Preeminent upgrades to the Warning/Fault Manager – User can setup warnings for any channels with comparators, limits or any combination of those. In addition, there is Warning/Fault history with time stamps.
V5.g-
Adds fault pop up warning control through the fault manager. User is able to select which fault functions will give a pop up warning when triggered.
Also fixes a bug that allowed the antilag spool additional rpm to be added to the main rev limiter.
Display Logger Files
All CAN Display Updates files must be unzipped and placed on the root of a Fat32 formatted USB Flash Drive for Updating!
Instructions: Power the Display Logger up fully, then insert the USB stick with the unzipped files on the root directory. The Display Logger will present the updating information, then ask you to remove the USB when completed. Leaving the display powered up, unplug the USB drive and the unit will reboot and display the new firmware (6.50) on the first screen before going to the default gauge. The operation is now complete. If you plan to use the same USB drive for writing the log files from the logger to, delete all of the files from the drive.
Warning!!!
When updating to any new ProEFI CAN Display Logger Firmware, you MUST use Pro5 Firmware to the Pro5 CAN Display Logger and Pro4 Firmware to the Pro4 CAN Display Logger. Otherwise your CAN Display Logger may become in operable and the unit will need sent in for reboot.