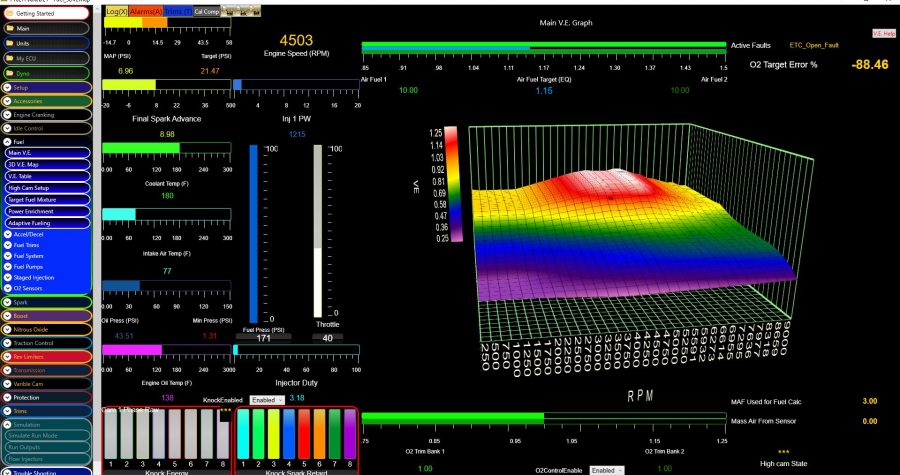 **** FOR ALL SOFTWARE DOWNLOAD LINKS: Right Click with your mouse and select " Save Link As "… then save onto your computer!!! *****
Version 6.38 Update (Validated for Windows 10)
Newer PC's will require the 'Dot Net 2.0 Download'!!!
IMPORTANT Note!!! ProEFI V6 software can ONLY be used with V6 firmwares and later!!!! It is NOT compatible with V5 and earlier firmwares. When updating to V6 firmwares, you must use V6 Software to perform the update. If you are still on Version 4 (or earlier), you must update to Version 5 before updating to Version 6!!!
ProEFI Gen2 Software (updated last 1.27.20) *** NOT FOR USE WITH V6 ***
Gen2 Software has a much faster processing speed between pages, tables, troubleshooting, simulations in run mode, etc.
IMPORTANT Note: This software requires a license for each ECU to use. The license fee is $55.00 and can be paid through the purchase link below.
[Once payment is received, may take up to 24 hrs. to process during the business week, Mon.-Fri.]
Display Logger Files
All CAN Display Updates files must be unzipped and placed on the root of a Fat32 formatted USB Flash Drive for Updating!
Instructions: Power the Display Logger up fully, then insert the USB stick with the unzipped files on the root directory. The Display Logger will present the updating information, then ask you to remove the USB when completed. Leaving the display powered up, unplug the USB drive and the unit will reboot and display the new firmware (6.50) on the first screen before going to the default gauge. The operation is now complete. If you plan to use the same USB drive for writing the log files from the logger to, delete all of the files from the drive.
Warning!!!
When updating to any new ProEFI CAN Display Logger Firmware, you MUST use Pro5 Firmware to the Pro5 CAN Display Logger and Pro4 Firmware to the Pro4 CAN Display Logger. Otherwise your CAN Display Logger may become in operable and the unit will need sent in for reboot.